item #
Description
Picture
Kozuka 1
Another Kozuka done in the extremely common theme. Goto style but most likely Waki-Goto. The back is partially done in gold cat-scratch. The back base metal is a brown color which may be a shakudo or some other patinated copper. A slightly different execution than normal.

Kozuka 2
This kozuka is part of a presentation set that has a Fuchi/Kashira and tsuba with the exact same design. All were sold individually off ebay (see other headings for other pieces). I didn't buy the kogai because it didn't have a mantis on it. It was described as from the 1920's, however, more knowledgeable individuals have attributed it to 17th or 18th century. It is Mino school work. I am fairly certain the base metal is copper or maybe bronze(?).
Kozuka 3
Kozuka made from shibichi or perhaps copper? depicting other insects, including ants, butterflies, bell insect and grasshopper. School unknown.
Kozuka 4
Kaga Kozuka done in petite inlay. Insects are masterfully done in the round. Size 9.7cm x 1.4cm. These types of work demonstrate the skill of the Kaga school.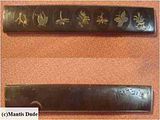 Kozuka 5
A shibuichi kozuka with a gold praying mantis sitting on beans. The kozuka is done with nanako, and signed on the back: Sano Taneyoshi & kao. Smith worked in the early 19th century